United Kingdom
Chris Whitty has quietly stepped off the Boris bluster carousel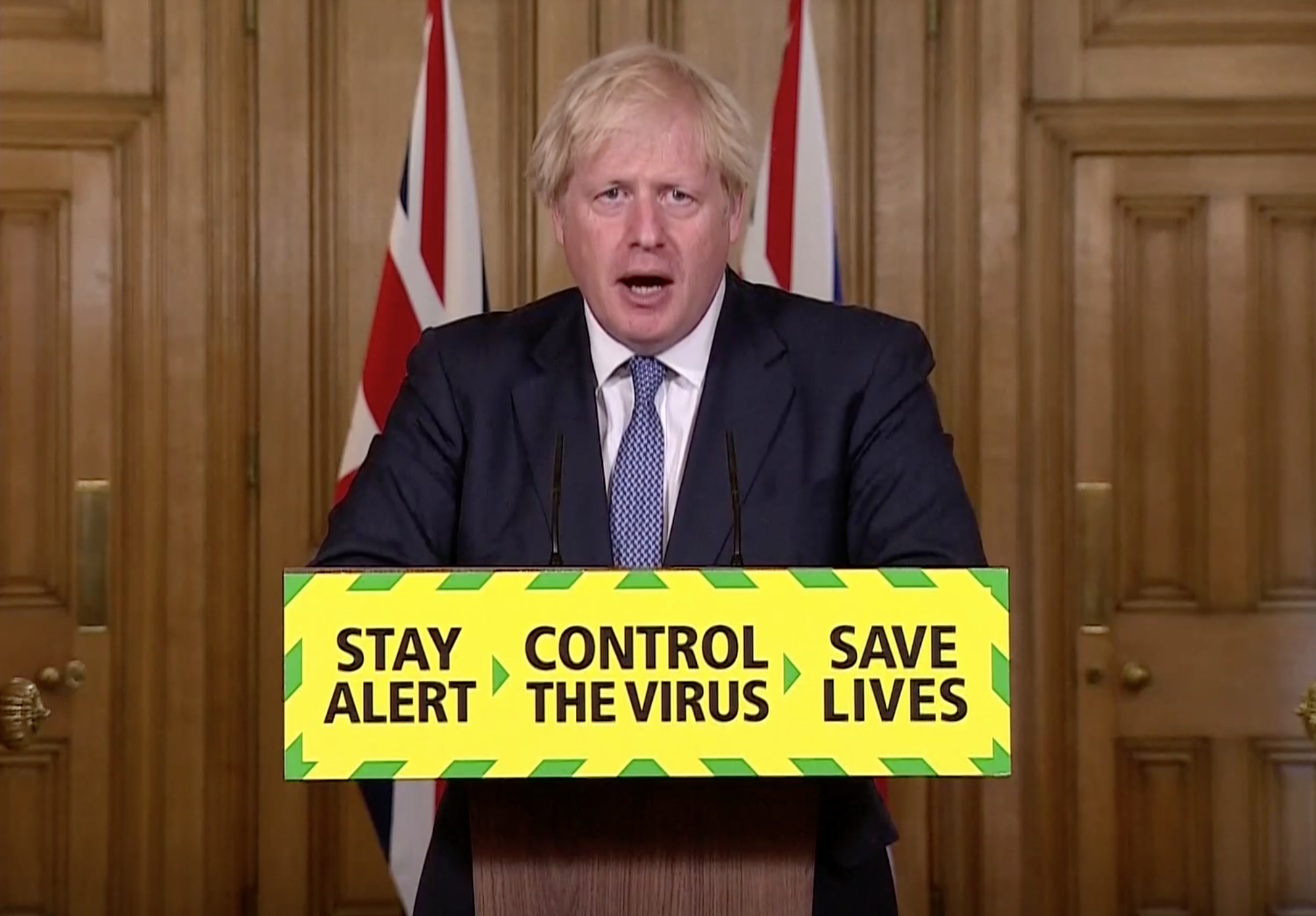 Just a shake of the head. That's all it was.
Boris Johnson had just announced a backwards leap in his plan to have sent coronavirus packing by Christmas. This was in itself a downgrade. On 19 March, he said it was to have been sent packing in 12 weeks, and that came to an end two months ago. (Top tip: don't buy anything from Boris Johnson on ebay. Promises on speed of dispatch are unlikely to be met.)
By his side was chief medical officer Chris Whitty. Did he have anything he wanted to add, Johnson asked him? To which only a shake of the head was offered.
Download the new Independent Premium app
Sharing the full story, not just the headlines
There has been an an increase in infection rates and as such, plans to further ease lockdown restrictions have been scrapped.
But Whitty had nothing he wanted to say. What was he doing there then? Someone had put a lectern out for him, after all.
Could it possibly be that, after months of the politicians claiming to have been led by the science, "the science" isn't going to be led about anymore?
Whitty spoke only to answer the questions put to him directly by journalists at the end. And he did so, only to hose down the man to his right with a cold, hard jet of reality.
There had been Johnson claiming that, well, when he said it would all be over by Christmas, that was always going to be "conditional – CONDITIONAL" on the virus not coming back, and that he always said he wouldn't hesitate to reimpose measures as and when they were needed, which he now had done.
And there was Chris Whitty, standing behind a lectern plastered with the words "control the virus", and saying the following: "We have to be realistic. The idea we can open up everything and keep the virus under control is clearly wrong."
There was Boris Johnson, saying, you know, you'll just have to wait a bit longer before you get to go back to the casinos and the bowling alleys and the skating rinks.
And there was Chris Whitty, saying: "We have probably reached the limits of what we can do in terms of opening up as a society."
That it's not just somehow, as if by magic, going to be open by Christmas. That desperately pointing out that you always said it was "conditional" doesn't make any difference. There's nothing conditional about the overwhelmingly foreseeably inevitable coming to pass. That "optimism", which is absolutely all Boris Johnson has to offer, is not something the Sars-Cov2-virus and its deathly glycoprotein spikes are ever going to be cowed by.
And there's certainly nothing inevitable about the scientists just being taken along for the ride.
There had been Chris Whitty saying we had reached the limits of unlocking, and yet here was Boris Johnson, still ploughing on with plans to send everyone back to work on Monday. 
Asked whether UK-based holidays were still such a great idea, given all that had just been said, and given tripling infection rates in Cornwall in the last week, all he could say was that "my favourite holiday memories are UK 'bucket and spade jobs'", as if that's even a tenth of an answer.
Optimism is a powerful emotion, but it is a close relative of false hope. Johnson seems to be clinging to the idea that you can unlock, re-lock again, and the next time you unlock, things are somehow going to be different. That maybe the virus will get bored and give up.
What if the delicate balancing act just can't be balanced? That the tightrope is too thin and you simply must choose over which side you'd rather fall?
That, ultimately, even a serial reality shielder can't shield you from reality forever. Boris Johnson, it is occasionally pointed out, has been sacked three times for reality shielding.
It is clear that Chris Whitty doesn't wish to be shielded anymore and nor, for that matter, do the rest of us.
This article was originally published on
Article Source